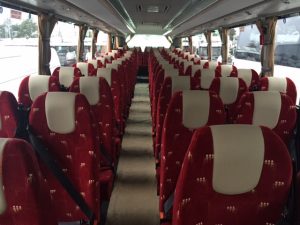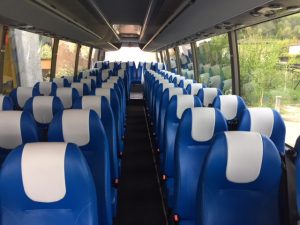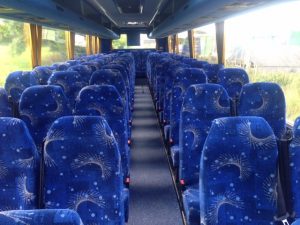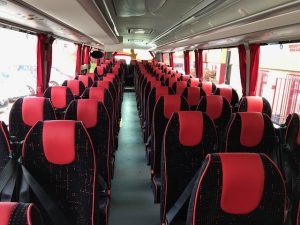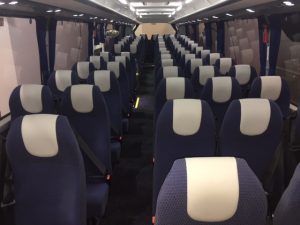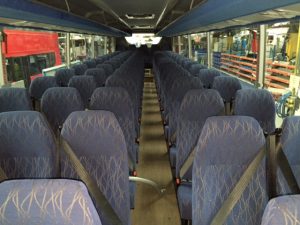 Product Specifications …
Options
2pt/3pt/all ages seat belts
Features
Weight from 12Kg per place
Fixed seat (400/425/450mm per place)
Fabric trim to suit your specification
Meets ECE R80
ECE  R14
Fire requirements R118
Seat can be fitted with
Piping
Leather headrest insert
Leather trim
Magazine nets
Rear table
Emergency door armrest
Stanchion clamp
The Buckingham is one of the most popular seats to be fitted in today's high-density coaches. It's also one of the most flexible seats available and has been a hit with coach builders, operators, and converters.
The Buckingham continues to prove it's versatility in the range of configurations it's available in. Typically the seat is supplied at 400mm per passenger with 450mm wide seats fitted to the rear.
The versatility of this seat is its real strength, it can be fitted with various trim styles to suit any type of coach, we can offer additional trim variations to include piping and all leather headrest inserts which offer a simple and defining look.
A range of seat covers are also available, from classic fabric through to full leather, each option offers excellent comfort and quality.
The options don't end here though as a variety of other accessories are available to provide enhanced comfort and safety:
Magazine Net
Cup Holder
Emergency Door Armrest
Footrest
Stanchion Clamp
Rear Table
The extremely adaptable design of the 3 + 2 version of the BUCKINGHAM gives excellent comfort with its contoured backrest, the extra slim squabs make maximum use of the normally restricted space available in these coaches.
Development of this seat has taken into account the needs of installers and we believe to be one of the simplest seats to fit, with its leg position being easily adjustable to suit your needs.
The Buckingham is a seat under constant development, this not only means that the seat is leading the way in comfort and features but also in safety.
The seat meets all requirements for seat strength, anchorages and fire to ECE R14, R16, R18, R118.
The continued development of this seat means that it will always be comfortable, safe and secure, offering you the best in seat quality for which ever vehicle you need to fit it in.